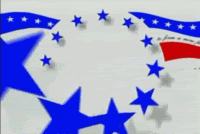 Happy Friday! And for those of you in the US, I hope you have had a wonderful Independence Day! Let's start with two CNN programming notes:
CNN will be showing the HBO documentary The Kidnapping of Ingrid Betancourt on Saturday, July 5th at 8PM ET.
On Sunday, July 6th, Wolf Blitzer will celebrate his 10th anniversary of Late Edition. Betsy Rothstein recently posted an article about Blitzer on The Hill:
If there is one certainty about life in Washington, it is that CNN's Wolf Blitzer won't shave off the beard that has been his trademark for the past three decades.
"It's been there for 30 years and it's going to stay," Blitzer told ITK last week.
This Sunday, Blitzer celebrates the 10-year anniversary of "Late Edition." He began hosting the show one week before the Monica Lewinksy scandal broke. "It wasn't exactly pleasant to cover it," he said. "I worked nonstop." The show will air a special two-hour retrospective. The only guest will be Blitzer, who will be interviewed by CNN correspondent Tom Foreman.
He said he has no plans to move networks. "I feel CNN is my home," he said, dismissing any notion of seeking the job of the late NBC "Meet the Press" host Tim Russert.
Blitzer, who turned 60 this year, felt Russert's death immensely. He said the two men were friends and attended basketball and baseball games together. "The shock — it was just so sad," he said.
He said Russert's death has been a wakeup call. "For everybody, life is short," he said. "[You] work hard, but make sure you take care of yourself and understand the priorities."
One of which, he was told, is his beard. In 1996 he was at the GOP presidential convention in San Diego and noticed that his beard was starting to turn gray. "It had been strawberry-reddish," he said. He broached the subject with then-CNN President Tom Johnson and said he was contemplating shaving it off. "He looked at me and he said, 'Are you crazy? I'm thinking of taking out an insurance policy on it.' "
That was enough; the beard stayed.
Another interview was posted on the Orlando Sentinel by the TV Guy, Hal Boedeker:
Question: What has been your most memorable show?
Answer: When I was in Cape Town and I had a chance to interview Nelson Mandela. Apartheid had been destroyed peacefully. There was an amazing transition to democracy. He had been elected fairly. He was such a towering figure.
Q.: What's the advantage of being — according to the CNN slogan — "the last word in Sunday talk"?
A.: We're the only Sunday show simulcast around the world at a time when people are awake on all of the planet. We have two hours. We're not only the last word, we're the longest word in Sunday talk. The advantage is world leaders watch it. World leaders don't see the other talk shows.
Q.: What are three interviews that you remember?
A.: Mandela definitely. An interview with Al Gore. He didn't say he invented the Internet. He said he took the initiative. It came back to haunt him. It got distorted by his political opponents. I interviewed George W. Bush when he was a presidential candidate. He was talking about Saddam Hussein. He was pretty blunt. You could see a grudge.
Q.: You work every weekday. Why is the Sunday job important to you?
A.: It's a different kind of show. We can get into it in depth. "The Situation Room" is fast-paced. People want quick hits. We can spend 20 to 40 minutes on an interview on "Late Edition." I enjoy doing it. I've always felt if I weren't doing it on Sunday morning, I'd be watching the other shows. Why not just do it myself?
Q.: How do you keep that pace?
A.: I exercise. I stay in shape. I try to pace myself. When I was a little boy growing up in Buffalo, I was a news junkie. I pinch myself about how lucky have I been to cover these major stories and be paid for it.
Q.: How did you approach the retrospective?
A.: We've gone through 10 years of tapes. We've taken what we think are highlights. Tom Foreman interviews me. That's the only new interview for the retrospective. I think I'm a pretty good interviewee.
Q.: How long have you been at CNN?
A.: Eighteen years. The great thing about CNN, we've got a really great team. When I say this is "the best political team in television," it has the added advantage of being true.
Q.: Why do you say that phrase so often?
A.: I didn't make up the phrase. Fox says "fair and balanced." We say we're "the best political team." Nobody has ordered me to say it. There's no quota. It's not a sponsored slogan. My dad used to say to me, "If you don't promote yourself, no one will promote you."
The two hour program will air on Sunday, July 6th at 11AM ET.
Two clips to wrap things up tonight. The first is from Monday's The Situation Room. John Roberts filled in for Wolf Blitzer. The clip has a few highlights from the segments including with Jack Cafferty. Cafferty ends up giving a tease for Jeanne Moos' story about kissing the other cheek.
In today's CNN NewsRoom, Don Lemon mentioned Avery's beverages latest sodas: Barak O'berry and Hohn Mccreme. This straw poll actually requires a straw.
All content, unless otherwise cited, is © All Things CNN and may not be used without consent of the blog administrator.