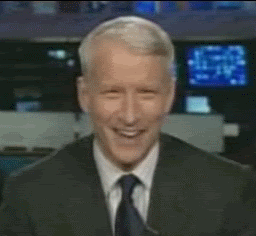 No Ratings tonight, I'll post last week's ratings and tonight's ratings in my Friday night post. Tonight, I'm focusing on the election (again).
I have several clips for you tonight... first, CNN's Anderson Cooper was on Ellen today. The clip has been broken into two parts:
Part one:
Part Two:
CNN rolled out a couple of new technical gadgets tonight. In addition to the magic wall, they now have the Virtual Captial. It previewed earlier tonight, although it was not glitch free. It worked well as Campbell Brown and John King reviewed a few of the Senate races, but then the magic wall locked up and if you watch the screen behind John King, you'll see the magic wall restart itself. You just have to love new technology and live TV! Here's the clip:
The other new gadget for the night is the hologram projections. Jessica Yellin was the first to be seen in the Election Center as a hologram. This time they didn't seem to run into any technical difficulties, but I've noticed that they haven't attempted it for a second time (as of the writing of this post).
I hope that those of you who have the opportunity to vote in today's election have either done so or are on your way right now to the polls before they close. I voted earlier today and there was no line, no problems with the machines, no parking problems- I was in and out in under 10 minutes. Not all polling places have long lines- so please don't let that scare you aware from letting your voice be heard. OK - I'll get off my soap box now.
CNN has provided us with a link to their projection map if you want to follow the race from here.
Refresh the page to get updated results.
All content, unless otherwise cited, is © All Things CNN and may not be used without consent of the blog administrator.